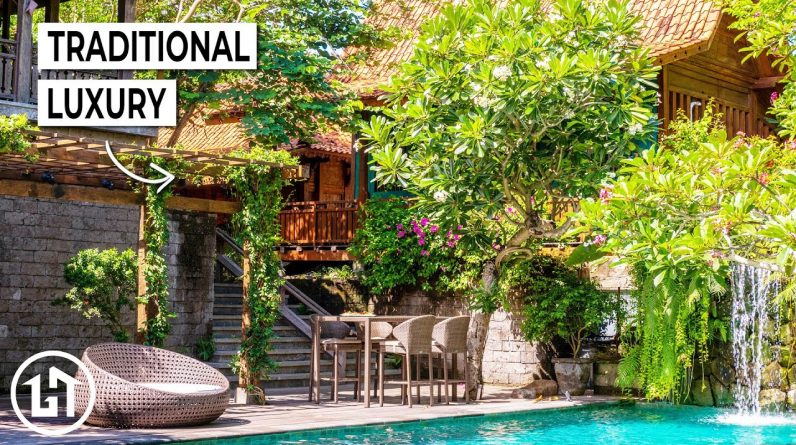 Traditional architecture incorporates some of the most amazing designs you are likely to see, so it is no wonder many luxurious homes opt for this unique style. Villa Kapungkur in Jimbaran is the perfect fusion of elegant traditional and luxury modern styling. The property has so many unique touches, both inside and outside. Come along as we take you around this very special villa in Bali.
🔔 SUBSCRIBE
Subscribe for weekly Luxury Bali Villa Tours! ► https://bit.ly/2BpjZ88
DONT FORGET to turn on post notifications!
📲 DON'T FORGET TO FOLLOW US
Instagram – https://www.instagram.com/balitecture
Facebook – https://www.facebook.com/balitecture
Building Website – https://www.balitecture.com
Real Estate Website – https://property.balitecture.com
Email – hello@balitecture.com
🛌 WANT TO STAY HERE?
Direct ► https://kapungkurvilla.com/
Direct ► https://www.instagram.com/kapungkurvilla/
Villa Kapungkur is exclusively managed by The Luxe Nomad.
🌴 OUR CHANNEL
Balitecture is an end-to-end property developer based on the beautiful tropical island of Bali, Indonesia. Our channel explores Bali real estate, luxury rental villas and vacation rentals in Bali, with exclusive access to some of the World's most luxurious homes and mansions. Join our team for tours of unique Bali properties for sale, rental and holiday accommodation.
Our tours showcase the best architectural design in Bali. From traditional Balinese designs to modern architectural masterpieces, we provide exclusive access within million-dollar mansions in paradise. Whether you are looking for design inspiration, want to build a villa in Bali or simply enjoy home tours, Balitecture is the perfect channel for you.
Some of these mansions we tour are available for sale. If you are looking to buy a villa in Bali, or perhaps build a custom villa of your own, please get in touch with our team to find out more at hello@balitecture.com
🏡 WANT TO BUILD YOUR OWN VILLA IN BALI?
Balitecture works with clients from around the world to design and build modern homes, resorts and holiday rentals. Our specialist team provides a complete property development service, including land acquisition, architectural design, construction, landscaping, furniture, management and maintenance. Find out more about our Bali villa development services and how we can help build your dream at ►►► https://www.balitecture.com
🌴 ABOUT THE RESORT
Villa Kapungkur in Jimbaran is the perfect home for the trip of a lifetime! The 5-bedroom villa is a spacious private oasis in the South of the island. Beautiful tropical beaches, designer boutiques, and exquisite restaurants are within easy reach of Kapungkur Village. Guests are treated to a warm five-star service by the experienced team, consisting of a villa manager, your private chef, and a housekeeping team to keep your villa clean and tidy.
Villa Kapungkur is the ideal destination for those who want to get lost in the beauty of Bali, immerse themselves in a luxurious holiday lifestyle, and experience the famous warm hospitality, history, and culture of our beloved unique and tropical island.
The luxury home boasts 5 bedrooms. The master bedroom, Joglo, features a traditional Javanese four-poster bed. The authentic and eclectic gebyok room is named for its ancient hand-carved door. The third room, Limasan, has a unique design implicative of a traditional Javanese house, mixing modern comforts with antique furniture.
The flourishing garden area of the luxury villa features a central outdoor pool. Equipped with a private waterfall, the pool and outdoor space is an oasis with high-end facilities and antique charm. Tucked in a quiet corner by the pond you'll find a spa bale. This is the perfect spot for you to unwind with beauty treatments and Balinese massages. The villa has a unique waterfall that cascades through bougainvillea plants into the 20-meter swimming pool.
🌴 CREATED BY BALITECTURE
Filmed, edited and produced by Balitecture, Bali, Indonesia.
This post contains affiliate links.
#VillaBali #Jimbaran #TraditionalArchitecture