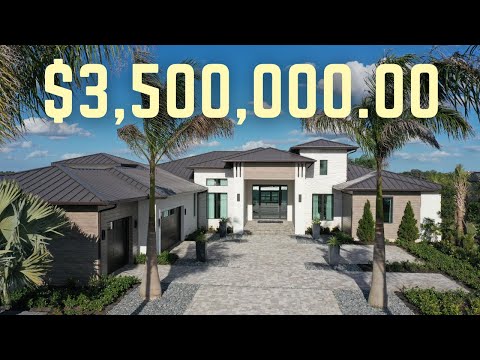 This week we are in Viera, Florida, touring a beautiful model home that the builder, Christopher Burton, is selling in the desirable community of Adelaide.
If you are interested in buying or selling your property in Florida, please contact us directly at 407-630-8484, or you can reach Mike directly at 407-487-3030(call/text). You can also email luxuryhomesmedia@gmail.com with any questions or inquiries you may have.
If you would like your listing or property featured on this channel? Please contact Mike directly at 407-487-3030 or email luxuryhomesmedia@gmail.com
If you are interested in regular homes that are available in Florida, check out our sister YouTube channel "The Mello Group"
https://www.youtube.com/c/THEMELLOGROUP
To search homes in any area see our link below. It will ask for your email to sign up, but you can turn off the auto-emails it sends easily and then have full access to listings in your area!
My Website:
https://mikemello.viewhousesinflorida.com/
About the home:
Beds: 4
Baths: 4 full/ 2 half
Garage: 3
4,850 square feet
Home Features :
"Introducing Andros: a show-stopping, contemporary coastal home designed to be both timelessly sophisticated and functional. Strategically placed sightlines evoke a sense of peace and tranquility, while the forward-thinking design and styling in this home create a harmonious indoor/outdoor living experience on beautiful Lake Adelaide. Meticulous attention to detail and construction allows Christopher Burton Luxury Homes to remain Brevard County's premier, custom home builder for more than 24 years."
If you're interested in the equipment we use in our videos see below:
Phone Equipment/Stabilization/Audio :
(I like to use models that are over a year old due to cost savings, if the camera performance is not much different) :
Android Phone with wide-angle (make sure you select S10+, not S10) also select internal memory you want, the higher the better for video, or use a memory card to save some money :
https://amzn.to/3f6k5mz
Memory Card :
https://amzn.to/31cfuXS
For iPhone users :
https://amzn.to/3shxOdQ
DJI OM4 Gimbal stabilizer for Phone (highly recommend over other stabilizers) :
DJI Direct:
https://click.dji.com/AM9r01ZRUfoU2F4z1ITfUw?pm=link
Amazon:
https://amzn.to/2PmHkhq
Wireless Comica Boom Microphone with 2 microphones :
https://amzn.to/3194iLF
Basic Wired Lapel microphone :
https://amzn.to/3tOKycs
Drones :
Mavic 2 Pro
https://amzn.to/3tMQQcn
2 spare batteries :
https://amzn.to/3reEeJE
Charger for Drone :
https://amzn.to/318zWc7
Memory Card :
https://amzn.to/31cfuXS
Mavic Air 2 (lower cost but good video quality) :
https://click.dji.com/AEw-RYjaZBGh_NUGPzH72A?pm=link
Other Equipment used :
Canon M50 Camera (for office shots) :
https://amzn.to/3rlfwr6
MacBook Pro with 1 TB of memory (for video editing) :
https://amzn.to/31apVLt
My favorite two books that influenced my business life:
Execution :
https://amzn.to/3lQkoDh
The Oz Principle :
https://amzn.to/3sf0uEr
#Adelaide
#LuxuryHomesFlorida
#LuxuryHomes
#ChristopherBurton
#ChristopherBurtonAndros