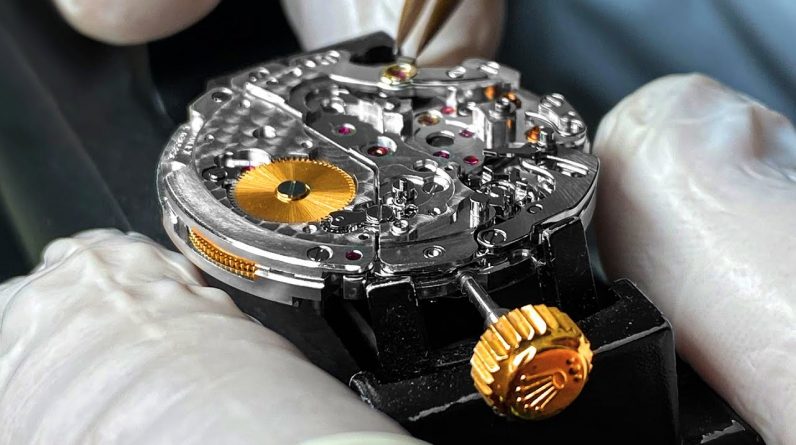 Have you taken a look inside the Rolex Yacht-Master II? At 44mm, it's not only one of the largest watches made by Rolex. It's also one of the most complicated (second only to the Sky-Dweller).
The gold Yacht-Master 2 (reference 116688) shown on the video houses a 360-component Caliber 4161 movement, which powers this beast of a sports watch, equipped with a regatta timer for yacht racing. The watch also contains the same Ring Command bezel as the Sky-Dweller, but uses it instead to control the timing mechanisms.
Join us in this episode of our Watchmaking Magic series as we perform a complete overhaul on the watch, taking every single piece apart with surgical precision before putting them back together again.
Yuri Lopez from Chrono Sky (see Instagram and website links below), our preferred watchmaker, allowed us to take some breathtaking footage of the entire process.
https://www.instagram.com/chronosky/
Main Video Sections
00:04 Removing watch hands and dial.
00:24 Yacht-Master II disassembly begins.
02:52 Mainspring uncoiling and panning of all the disassembled parts.
03:22 Washing all the parts.
03:35 Assembly begins.
03:37 Assembly of mainspring.
06:37 Assembly of dial and hands.
08:09 Final testing.
08:19 The final watch.
If there's a particular luxury watch model you would like us to feature or cover on our videos, please let us know in a comment below.
Follow our channel and join our quest to 1M subscribers!
Also here are some helpful links to our social pages and important section of our website: 🔽🔽🔽
Instagram (where we post a lot of daily watch deals):
https://www.instagram.com/crmjewelers/
Sell your watches here:
Chrono Sky Website
https://chronosky.com/