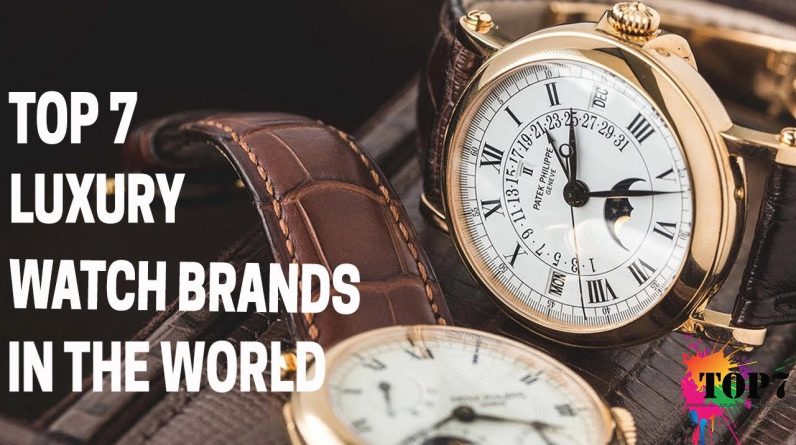 Hello Everyone,👋👋👋
This video is about Top 7 Luxury Watch Brands In the World
01. Patek Philippe
Known for inventing the very first wristwatch, Patek Philippe & Co has become a top watchmaker and is one of the most sought-after in the world. Everyone would agree that it would be a disservice to make a top 7 list and not mention this watchmaker. Patek Philippe is one of the 3 Holy Trinity Watchmakers. Some of their most popular models include the Nautilus, Aquanaut, World Time, Twenty-4, Calatrava, and more. In addition to their many popular models, Patek Philippe was commissioned to create some of the world's most complicated watches for many high-profile individuals such as James Ward Packard, and Henry Graves.
02. Vacheron Constantin
Next in our famous watch brands list is the oldest continuously operating watchmaker in the world. It is a brand that brings hundreds of years of watchmaking history with it. Since 1755, Vacheron Constantin is also another Holy Trinity Watch brand and has been creating some of the most unbelievably unique and creative horological masterpieces.
03. Audemars Piguet
Another member of the prestigious "holy trinity" in watchmaking, Audemars Piguet has been manufacturing some of the most spectacular watches since being founded in 1875. They are certainly considered by most to be one of the top 7 watch brands in the world today. The collection for which they are most famous is the AP Royal Oak series. This is an iconic watch collection that was a major game-changer for Audemars Piguet who was the first to use a non-precious metal, stainless steel in the latest sports watch design, and charge luxury prices.
04. Blancpain
Blancpain was established in 1735 and is slightly older than Vacheron Constantin but did not operate under the Blancpain brand from the day it was established. They have contributed much to the advancement of watchmaking techniques and produced watches containing some of the most complicated movements. Blancpain is the pioneer in creating diving watches with their iconic Fifty Fathoms timepiece, the world's first-ever diver's watch. Blancpain had since produced many fine collections including Le Brassus, Leman, Villeret, Novelties, Specialties, and Sport. They are one of the top 10 watch brands in the world and worthy of much praise.
5. Ulysse Nardin
In 1846 a Ulysse Nardin opened its manufacture. At the time it was not more than a watch stand, but soon became one of the powerhouses in the watch industry. They create everything from classic minimalist designed series such as the San Marco Classico to the flashy and complicated Hour Striker, Sonata, and El Toro GMT +/- Perpetual Calendar collections. Other modern collections include the Quadrato Dual Time and Dual Time Perpetual. Ulysse Nardin is quite famous for their marine chronometers such as the Maxi Marine Chronometer and their Marine Chronograph, with their marine watches Ulysse Nardin has cornered a segment in timekeeping where they truly shine brighter than the North Star.
06. Rolex
It would be a shame if we didn't mention a brand like Rolex which has the most recognized watch brand in the world with literally 100% brand recognition. But though they are the most famous of all famous watch brands, let's acknowledge them for their watchmaking skills not just for their popularity. Rolex produces some rather amazing watches; and lots of them. It is estimated that their production is approximately 2,000 watches per day. One of the things about this most famous watch brand is that people rant and rave about the fact that they have a higher average resale value than any other watch brand on the market. This can directly be attributed to the fact that Rolex is if not the most, certainly one of the most valuable watch brands in the world.
07. Omega
Omega SA is one of the more popular brands of luxury watches yet, they are not necessarily one of the most expensive watch brands out there compared to many watchmakers mentioned here. They had their Seamaster watches featured in major films throughout the years; films such as say every James Bond movie since Goldeneye Featuring Pierce Brosnan and every "007" film that followed featuring Daniel Craig. Most notably famous for their Moonwatch, the Omega Speedmaster Pro which was on the wrist of Buzz Aldrin as he took his first steps on the lunar surface. Having their watches flight-qualified by NASA for a space mission such as Apollo 11 was instrumental in bringing up the prestige of this brand. Omega is, in fact, the 2nd most recognized Swiss watch brand in the world, with approximately 70% international brand recognition. They are owned by a watch conglomerate called Swatch Group.
#watches #rolex #luxurywatches