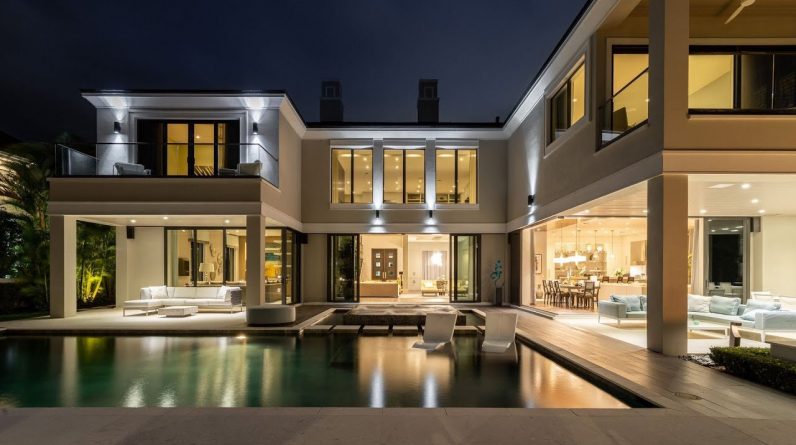 ❤️ It is a great honor and pride to be accompanied with John Poletto (561-239-0700) & Mark Nestler (561-212-1517) to present this amazing property. Please contact the Agents for further information.
✔️ VIDEO CREDIT : (to be named, we are looking information to credit)
❤️ BIG THANK to the Videographer! We are grateful to the videographer who created the great material which used for this video. We feel very proud to include their name and the brand here so that all viewers can identify. If you are or have information about the filmmaker, please contact us at the email address below.
—————————————————————————————–
✔️ ABOUT THE PROPERTY :
** Location : 701 Sanctuary Dr, Boca Raton, FL 33431
** Price : $14,000,000
** Beds : 5
** Baths : 9
** Living : 7,683 sqft
** Lot size : 0.31 Acres
** Built : 2015
** Description : This meticulously maintained two story Transitional contemporary waterfront residence features ocean access and 24/7 security and private roads. Offered completely furnished and accessorized, it is move-in ready. The entry foyer opens to a two-story great room which overlooks the open pool, covered patio, expansive water views with the natural 'Sanctuary Island' wildlife refuge off in the distance. The first floor features an office/club room, dining, wine and bar areas, an open kitchen with center island which services the family room and a dinette overlooking the pool. The second floor features the primary bedroom suite with exercise area and steam shower, a secondary family room, in addition to four en-suite bedrooms.
** Sale Agent | Listed by : John Poletto (Phone: 561-239-0700) & Mark Nestler (Phone: 561-212-1517) at One Sotheby's International Realty
** For more information please visit : https://nestlerpolettoluxuryhomes.com/search/listing/beaches/10799202/Boca-Raton/701-Sanctuary-Drive
—————————————————————————————–
✔️ ABOUT THE AGENT : NESTLER POLETTO – ONE SOTHEBY'S INTERNATIONAL REALTY
For more than 40 years, Mark Nestler and John Poletto at ONE Sotheby's International Realty have been exceeding the expectations of South Florida's luxury home buyers and sellers. Representing Palm Beach and Broward County, our unparaelled expertise extends from the Ocean to the Everglades and from Palm Beach to Fort Lauderdale. When performance matters, buyers and sellers, family and friends have placed their trust in them.
– Website : https://nestlerpolettoluxuryhomes.com/
– Address : 200 E. Palmetto Park Rd, Suite 104 , Boca Raton, FL 33432
– Phone : 561-239-0700 | 561-212-1517
– Email : john@onesothebysrealty.com | mark@onesothebysrealty.com
– Social Networks : https://www.facebook.com/NestlerPolettoSIR
—————————————————————————————–
✔️ ABOUT LUXURY HOUSES – AMERICAN HOMES CHANNEL :
– Luxury Houses – American Homes is a COMMON CHANNEL for Real Estate Operating Units including Videographers, Agents, Builders, Design Firms where they present their properties as well as promote their brands to millions of people worldwide.
– When you are ready to present your works, listings, projects, please send us the property videos, and we will post them within 24 hours.
– Please send TAKEDOWN request to us if your videos do not plan to exist longer on the Luxury Houses – American Homes Channel. We will put your request into action within 6 hours. Email to: luxuryhousesmedia@gmail.com
– Visit our website to discover more great things! https://luxury-houses.net | LUXURY HOUSES – AMERICAN HOMES – Inspiring Your Dream House
#luxuryhouses #americanhomes #luxuryhousesamericanhomes #luxurylistings
—————————————————————————————–
✔️ DISCLAIMER :
– All images, videos are copyright each Photographer, Videographer, Real Estate Agent & Studio mentioned.
– All information contained in the LUXURY HOUSES – AMERICAN HOMES is provided as a convenience to audiences. All property prices displayed on the channel are current at the time of publication, but may change at any time and are subject to availability.