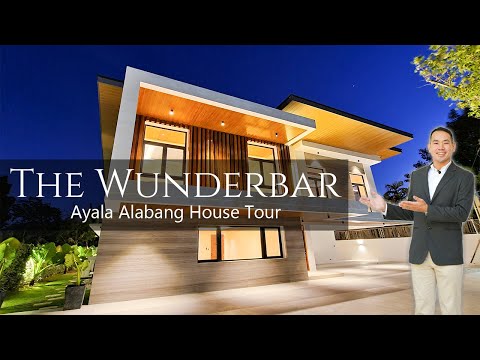 Presenting our First House Tour where we are toured by the actual builder of the home. Mr. Sergio Syjuco of Excalibur Builders tours us through this Wonderful Brand New House and Lot for Sale in Ayala Alabang, Muntinlupa City!
Trivia: Wunderbar is Marvelous in German 🙂
For Direct Buyers
, Property ID: A32
To Book a Property Viewing and Inquiries pls.
Contact: +63917-8204088
(Viber and WhatsApp number)
Jake Bautista, PRC Licensed Real Estate Broker
Email: metroguide.realty@gmail.com
Property Size and Features
Floor Area: 920 sqm.
Lot Area: 719 sqm.
✅ 5 Bedrooms
✅ 7 Bathrooms
✅ 7-9 Vehicle Car Port
✅ Spacious Lanai
✅ Swimming Pool with Waterfall Feature
✅ Master Bedroom
✅ Master Walk-in Closet with 2nd Level
✅ Main Kitchen
✅ 2nd Floor Family Hallway Den Area
✅ Spacious Auxiliary Kitchen
✅ Laundry Room
✅ Storage Room
✅ Staff Room with T&B
✅ Driver's Room with T&B
✅ With Aircon Units Included
✅ Service and Laundry Area
✅ Secure Community
Key Features
🔸️ Solid Narra Wood Main Door
🔸️ Automated Gate
🔸️ Passenger Elevator
🔸️ Italian Tiles for Flooring
🔸️ Solid Yakal + Canadian Pinewood + African Tanguile Wood (Eaves)
🔸️ Waterfall Feature
🔸️ Narra Wood for the Flooring
🔸️ UPVC Quality Windows
🔸️ Toto and Hans Grohe for Bath Fixtures
🔸️ Air-conditioning Units Included
🔸️ Lighting and Aircon Automation for All Bedrooms
🔸️ Kitchen Appliances (Refrigerator, Wine Chiller, Beverage Chiller, Range
Hood, Cooktop for Main, Cooktop for Auxiliary)
🔸️ Special LED Lights that can adjust and blend warm and white light
Investment Price: 240,000,000 pesos
Book an Exclusive House Viewing:
Mobile: 0917-8204088
Email: metroguiderealty@gmail.com
Instagram: https://www.instagram.com/metroguide_realty_manila/?hl=en
Facebook: https://www.facebook.com/metroguiderealty
IG: metroguide_realty_manila
Are You Looking to Have Your Dream Home Designed and Built?
Contact our Featured partner in this video, Excalibur Builders by Luxury Home Builder
Mr. Sergio Syjuco
Mobile: 0917-1388858
Instagram: https://www.instagram.com/sergiosyjuco
Instagram: https://www.instagram.com/excalibur_builders
IG: @excaliburbuildersph
Facebook: https://www.facebook.com/excaliburdesign
Note: All presenters were fully vaccinated before filming. Safety first!
—————————————————————————
FOR CLIENTS Looking to Build Your Own Home:
This property is a Flagship Development by Excalibur Builders
Are you looking for Excalibur Builders to build your Dream Home?
We can connect you for a meeting to discuss the best
design that fits your needs.
To Set a Meeting for a Completely Brand New Home
for your and your family, contact:
0917-8204088
metroguiderealty@gmail.com
www.metroguiderealty.com
———————————————————————————
FOR SELLERS
Are you selling your residential or commercial property?
Do you want your property to be featured in MetroGuide Realty?
LIST Your Property with Us, and sell quickly at the best price.
Send us a message at +639178204088 or proceed to:
www.metroguiderealty.com
———————————————————————————-
House Tour Guide (Click the time stamp)
0:00 Intro and House Views
1:29 Welcome!
2:10 Introducing the Builder
3:46 Parking Area + Facade
6:25 Welcome! Main Door and Hallway
7:39 Living Room
11:39 Swimming Pool and Lanai Area
14:16 Evening Views
14:52 Dining Room
16:23 Main Kitchen
18:20 Auxiliary Kitchen
20:13 Service Quarters
22:12 Laundry Room
22:45 Den / 1st Room
24:52 Elevator
25:45 Powder Room
26:43 2nd Level Family Den Area
29:24 2nd Bedroom
31:35 3rd Bedroom
33:47 4th Bedroom
35:30 Master Bedroom Ante Room
36:40 Master Bedroom Main Room
39:06 Master Walk-in and Bathroom
43:55 What Makes this House Unique?
46:40 How to Hire Excalibur Builders
47:49 Contact MetroGuide Realty
11:23 Den (1st Room)
14:00 2nd Bedroom
16:30 Loft of 2nd Room
17:32 2nd Floor Family Area
19:37 3rd Bedroom
20:53 4th Bedroom
22:16 Master Bedroom
23:59 Master Walk-in Closet and Bathroom
26:10 Want a Home Like This?
27:14 Contact MetroGuide Realty
For Inquiries
Jake Bautista
0917-8204088
#AyalaAlabang #Metroguide #ExcaliburBuilders #AyalaAlabangHouseforSale