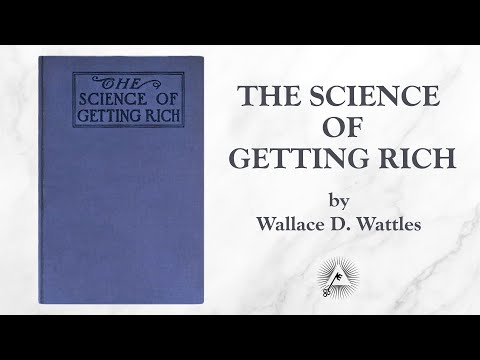 An original production only available only on YouTube.
Thanks for subscribing and sharing.
Book Description:
The Science of Getting Rich – AKA Financial Success Through Creative Thought, was first published in 1910 by Wallace D. Wattles, 1 year before his death. This book became an instant classic among those in the New Thought movement of the 19th and 20th centuries. His other notable books written during the same time were The Science of Being Well and The Science of Being Great. His writings were based on the technique of creative visualization. The practice of forming a clearly defined mental picture of what it is that you want and who you want to be, fixing the vision into your mind, and then working toward the realization of that vision.
The Science of Getting Rich was cited by Rhonda Byrne as an inspiration for her film and book The Secret.
Chapters:
00:00 – Book Shelf
00:45 – Preface
03:23 – I. The Right to be Rich
09:35 – II. There is a Science of Getting Rich
16:34 – III. Is Opportunity Monopolized
24:30 – IV. The First Principle in the Science of Getting Rich
34:55 – V. Increasing Life
45:27 – VI. How Riches Come to You
54:34 – VII. Gratitude
01:01:20 – VIII. Thinking in a Certain Way
01:09:12 – IX. How to Use The Will
01:17:35 – X. Further Use of the Will
01:26:56 – XI. Acting in the Certain Way
01:36:23 – XII. Efficient Action
01:44:09 – XIII. Getting into the Right Business
01:50:52 – XIV. The Impression of Increase
01:57:53 – XV. The Advancing Man
02:04:56 – XVI. Some Cautions, and Concluding Observations
02:12:49 – XVII. Summary of the Science of Getting Rich
Credits:
Text – Wallace D. Wattles
Audio Narration – Randy Scott
Visual Photography and Editing – Brian Dehler
Produced by Cine-O-Matic, Inc. dba Master Key Society on location in Minneapolis, Minnesota.
This YouTube book is copyright ©2021 Master Key Society
About Master Key Society:
This educational channel provides a unique and accessible book format so that these important literary works can be available to everyone. With each rare and often never-before-seen book, we provide an overview in the description, record original narration, and we meticulously photograph each page so that you can experience the book in full detail. Our library is for the academic study and research of metaphysical philosophy and for those that are seekers of wisdom, personal transformation, and self-improvement. Please participate by subscribing and sharing your thoughts in the comments section.
Recognized by the YouTube community for bringing audio/visual accessibility to these important literary works, Master Key Society is proud to be a supporter of the Philosophical Research Society and a supporting member of The International Dyslexia Association (IDA) and The International Association of Accessibility Professionals (IAAP).