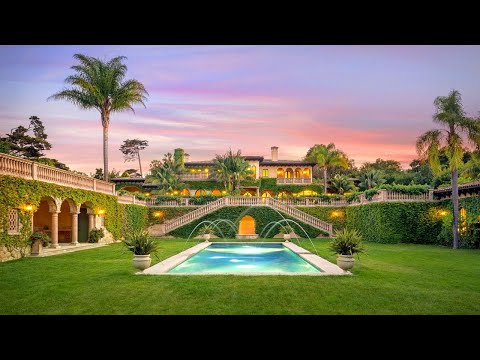 Mediterranean Masterpiece Home Accented With Moroccan Style Arches and Southern Spanish Architecture
Visit Our Website for More Luxury Houses: https://www.luxury-architecture.net
This Majestic Montecito Estate Offers Unparalleled Privacy and is Only Moments From the Shops and Restaurants of the Upper and Lower Villages. Grand Entry Gates and a Meandering Palm Lined Drive Lead to a Gracious Motor Court Boasting Monumental Mountain Views on Nearly Three Manicured Acres.
Stunning Old World Influences Combine With World Class Amenities. This Mediterranean Masterpiece Presents a Breathtaking Façade and Incorporates Moroccan-style Arches and Southern Spanish Architectural Inspiration.
#luxuryhomes #architecture #luxuryhouses #mansions
————————————————————————–
Welcome to Luxury Homes Youtube Channel
Luxury Homes Is a Celebration of International Design Talents and Innovative Luxury Homes by Leading Designers and Independent Brands.
Our Mission Is: to Bring You a Carefully Edited Selection of the Best Influential Architecture, Breathtaking Designs and High-end Real Estate.
We Offers Constant Coverage of the Best of Interior/exterior Designs From The World of Architecture.
Subscribe for New Videos Regularly.
If You Have Any Question or Request, Or For Copyright Matters Please Feel Free to Send Us a Message.