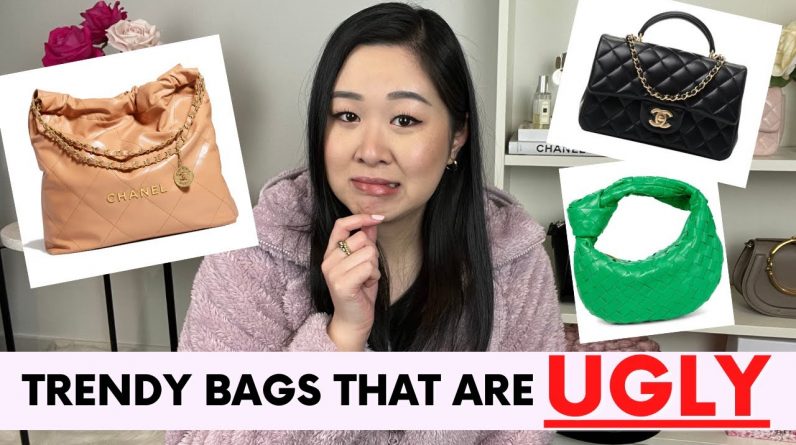 In this video, I'll share with you all my thoughts on what I think are some of the most ugliest popular and trendy bags that are out right now. Please don't take offence to this if you own or love any of the bags mentioned – this is purely meant to be a light-hearted video sharing with you some of my crazy thoughts and opinions.
I hope you enjoy this video and find it fun. If you do, please consider subscribing and supporting my channel!
Join me on Instagram for more eye candy: @helloxluxury
(https://www.instagram.com/helloxluxury)
HANDBAGS MENTIONED:
Chanel 22
Chanel Rectangular Mini with Top Handle
Louis Vuitton Stardust Collection
Puffer Bags e.g. YSL Loulou Puffer Bags & Louis Vuitton Coussin Bags
Bottega Veneta Mini Jodie
Chanel 19
WHAT I'M WEARING:
Jacket: https://bit.ly/3Jz18pH
Ring: https://bit.ly/2SgC4NX
Lipstick: https://bit.ly/3lZ19GA
SIMILAR VIDEOS YOU MIGHT LOVE:
Popular luxury handbags I won't purchase (Part 1): https://youtu.be/DOvgd9Hv_xg
Popular luxury handbags I won't purchase (Part 2): https://youtu.be/UNaUTtt8d-M
YOUTUBER MENTIONED:
@hello catwalk city
THINGS I LOVE THAT YOU WILL LOVE TOO!
BAG ACCESSORIES:
Leather straps, chain straps and keychains to accessorise your bags from Organize My Bag. Their chains and leather straps match Louis Vuitton bags to a tee!
Shop Organize My Bag: https://bit.ly/2NJ8jmF
Keychains I use to accessorise my Louis Vuitton Palm Springs Mini Backpack:
– Gold Bag Charm with Keyring: https://bit.ly/3rAlUMz
– Acrylic Charm in Iridescent: https://bit.ly/3BGohlW
Straps I use to turn my smaller bags into dressier shoulder bags & crossbody bags:
– Vachetta Leather Strap (perfect for Louis Vuitton Mini Pochette Accessoires): https://bit.ly/2GQjwhs
– Adjustable Vachetta Leather Strap (perfect for Louis Vuitton Pochette Accessories): https://bit.ly/3oecrYd
– Video on all the different ways I wear and style the Louis Vuitton Mini Pochette: https://youtu.be/EfUofdAqu-U
Use DISCOUNT CODE for 10% off your order: HELLOXLUXURY_10
***
ROSE FOREVER ETERNITY ROSES (in my background): https://bit.ly/3mndqGo
Use discount code for $20 off: helloxluxury20
***
ORBITKEY ORGANISER:
Key Organiser I have is in Blush Leather with Blush Stitching: https://bit.ly/3j26cHD
Use this link for 10% off! https://prz.io/KbJQNk8sY
***
Bag Organizers
Custom-made bag organizers for your luxury handbags – Louis Vuitton, Chanel, Dior & More.
Shop Samorga: https://samorga.com/
Use DISCOUNT CODE for 20% off your order: HELLOXLUXURY
***
Trendy yet classic jewellery
Shop Ana Luisa: https://bit.ly/3vYZFl9
My favourites:
Bold Rope Ring: https://bit.ly/2SgC4NX
Paris Earrings: https://bit.ly/3djeEii
Rowena Flower Bracelet: https://bit.ly/2SWbeuB
Use DISCOUNT CODE for 10% off: helloxluxuryy10
***
EQUIPMENT I USE TO FILM:
iPhone 13 in Pink (256GB): https://bit.ly/3uoDAwd
Ubeesize Phone Tripod: https://amzn.to/3iYiJvt
Volkwell Softbox Lighting: https://amzn.to/3k4OAKx
***
WATCH MORE OF MY VIDEOS:
Louis Vuitton Alma BB vs. Givenchy Antigona Mini Comparision: https://youtu.be/AHbPFy-tXr8
Luxury items I wanted but no longer do 2022: https://youtu.be/K-LfPSyYSdg
My honest opinion of popular Louis Vuitton handbags: https://youtu.be/l8C8vEZcVM0
Luxury items I've sold & why: https://youtu.be/zxSNBCqrXUQ
Louis Vuitton Alma BB unboxing: https://youtu.be/roxQxy7Q_V8
What I got for my birthday 2022: https://youtu.be/su8OIkat0y0
My luxury and fine jewellery collection: https://youtu.be/8SpLt-Tt-2w
My mini handbag collection: https://youtu.be/nVgy1rb41Jw
Prada Re-edition 2005 Nylon Bag Unboxing: https://youtu.be/6XouxM2wk7I
5 Best Louis Vuitton SLGs: https://youtu.be/w16gH9iviLk
5 Worst Louis Vuitton SLGs: https://youtu.be/0RmH6ObQONw
***
If you have any questions, or video suggestions, please leave me a comment or send me an email at: helloxluxury@gmail.com
Until next time, xo
Some links may be affiliated. You do not pay any more or any less by using an affiliate link. It just shows the retailer that I sent you there and helps support my channel! Thank you for your support 🙂