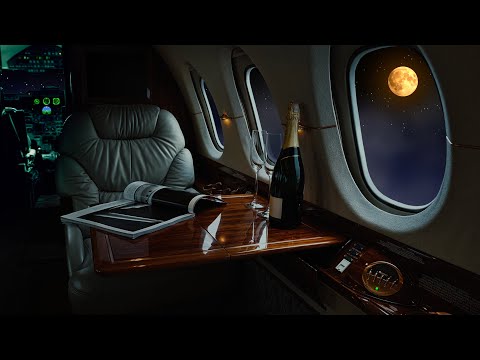 Watch the moonrise on your private airplane with soothing white noise and jet engine sounds. Your destination is an overnights travel away, you board the plane and take off, as you reach cruising altitude you notice night is upon us, with the full moon about to rise, its soft glowing light spills into the cabin. The purr of the jet engine and wind passing over the wings is hypnotically calming, you ring the bell for the flight attendant to bring you a bottle of champagne, a heart warming nightcap to send me to sleep. ✈💤💤💤
Why listen to white noise sounds?
White noise helps to keep your bedroom quiet creating an optimal sleeping environment buffering noises which may wake you from your slumber. White noise has been proven to reduce symptoms of anxiety, which usually keep's people awake at night, there's a reason its used during mediation session's. White noise can improve the overall quality of your sleep by limiting the amount of times you get woken during the night, thus making you feel more refreshed every morning. White noise can be taken anywhere you plan to sleep outside of your home bedroom, you can't control your environment, but you can limit it's effect on you. One last point, for those who suffer from tinnitus, some types of white noise can help to partially or completely mask a person's awareness of the condition, allowing them to relax with temporary respite from its effects. Time to get more white noise sounds into your life and get some well earned sleep.
* I will receive a small commission from Amazon if you buy from the links below which interim helps me create more content for this channel.
🎧Headphones for relaxation and sleep (via Amazon online)
Ultimate Ears BOOM + – https://amzn.to/2A4oDHp
Bluetooth speaker: (360 degree high quality speaker with the ability to pair multiple speakers for more spatial sound)
Beyerdynamic Beat BYRD – https://amzn.to/2XcOjJO
Low profile headphones: (Has a recessed flat outer casing making it easier to sleep with on your side…Love these things.)
Bose Sleep Buds II – https://amzn.to/307NRhZ
Designed to give you the perfect nights sleep, these buds have their own nature sound library curated by Bose, they fit snuggly in the ear providing amazing passive noise cancellation.
💤Cool Sleep Products (via Amazon online)
InnoGear Essential Oil Diffuser – https://amzn.to/3ba6b0m
The #1 best seller in aromatherapy oil diffusers, has 2 misting modes for your of choice oils (lavender is my favorite option) aswell as several light modes to really set the sleep mood.
Philips Wake-up Light, Sunrise Simulation – https://amzn.to/3kHCxT5
Recommended by physicians and pharmacists for establishing a healthy sleep and wake routine. A great alternative to traditional alarm sounds, by waking you up in a more natural way.
Alaska Bear Natural Silk Sleep Mask – https://amzn.to/3uOgezT
Made using mulberry silk and cotton liners, hypoallergenic and breathable, allowing oxygen to flow for those who may suffer with dry eyes.
YnM Weighted Blanket – https://amzn.to/3bTqYV0
This weighted blanket stimulates the sensation of a warm embrace, which interim releases serotonin and melatonin for a stress reducing night of sleep.
Good Day Chocolate Melatonin Supplement – https://amzn.to/387bhZg
1mg melatonin per piece and soothing chamomile to encourage deep restful sleep, also made with premium fair trade certified chocolate.
thisworks Deep Sleep Pillow Spray – https://amzn.to/2MOMsKk
A 99% natural sleep aid, proven to help you fall asleep faster and wake feeling more refreshed. Our award-winning, natural, aromatherapeutic Superblend of Lavender, Chamomile and Vetivert calms both mind and body, soothing you to sleep
🎤Audio gear I create my soundscapes with (via Amazon online)
Sound Devices MixPre-6 II Audio Recorder/Mixer
https://amzn.to/2LOmgv5
Rode NT-SF1 SoundField Ambisonic Microphone
https://amzn.to/2TsqrB6
#whitenoise
© 2021 Artful Ambience