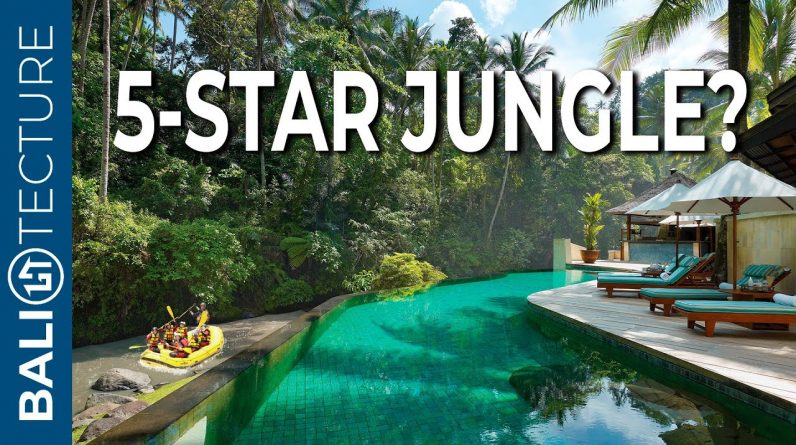 Could this be the best luxury resort in Ubud, Bali? The Four Seasons at Sayan is truly one-of-a-kind, not only due its setting within a tropical jungle, but also due to much of the design being inspired by a rice bowl. Explore the many layers and hidden treasures that this 5-star property has to offer as our host Trevor takes you on a tour through this magical destination. The beautiful natural scenery is so mesmerizing and relaxing that you will never want to leave! Maybe you will even want to build your own villa in Bali too?
🔔 SUBSCRIBE
Subscribe for weekly Luxury Bali Villa Tours! ► https://bit.ly/2BpjZ88
DONT FORGET to turn on post notifications!
📲 DON'T FORGET TO FOLLOW US
Instagram – https://www.instagram.com/balitecture
Facebook – https://www.facebook.com/balitecture
Building Website – https://www.balitecture.com
Real Estate Website – https://property.balitecture.com
Email – hello@balitecture.com
🛌 WANT TO STAY HERE?
Direct ► https://www.fourseasons.com/sayan/
🕒 TIMESTAMP
00:00​ – Intro
04:05 – Riverfront Bedroom Villa
05:11 – Bedroom Area
05:45 – Bathroom
07:22 – Pool Area
08:22 – Lobby Area
08:52 – Restaurant Area
10:05 – Gym & Spa Area
10:53 – Cooking Classes Area
11:44 – Sacred River Spa
12:14 – Dharma Shanti Yoga
🌴 OUR CHANNEL
Balitecture is an end-to-end property developer based on the beautiful tropical island of Bali, Indonesia. Our channel explores Bali real estate, luxury rental villas and vacation rentals in Bali, with exclusive access to some of the World's most luxurious homes and mansions. Join our team for tours of unique Bali properties for sale, rental and holiday accommodation.
Our tours showcase the best of architectural design in Bali. From traditional Balinese designs to modern architectural masterpieces, we provide access all area access within million-dollar mansions in paradise. Whether you are looking for design inspiration, want to build a villa in Bali or simply enjoy home tours, Balitecture is the perfect channel for you.
Some of these mansions we tour are available for sale. If you are looking to buy a villa in Bali, or perhaps build a custom villa of your own, please get in touch with our team to find out more at hello@balitecture.com
Our luxury house tours take place all over Bali, including popular destinations such as Canggu, Seminyak, Berawa, Umalas, Uluwatu, Nusa Dua, Jimbaran, Ubud, Sanur, Tabanan, Nusa Penida, Lombok, Legian and many more.
🏡 WANT TO BUILD YOUR OWN VILLA IN BALI?
Balitecture works with clients from around the world to design and build modern homes, resorts and holiday rentals. Our specialist team provides a complete property development service, including land acquisition, architectural design, construction, landscaping, furniture, management and maintenance. Find out more about our Bali villa development services and how we can help build your dream at ►►► https://www.balitecture.com
📹 EQUIPMENT WE USE
Camera – https://amzn.to/3fpUfXi
4K Drone – https://amzn.to/3fjRhDi
Editing Software – https://amzn.to/3k2pCub
Laptop – https://amzn.to/3hWVleK
Microphone – https://amzn.to/3k7HZOL
🌴 ABOUT THE VILLA
Float above treetops on a dramatic suspension bridge and cross into a different world. With locally inspired experiences and rice bowl-shaped architecture set against the lush Ayung River Valley, our Resort – the only Bali hotel on the 2020 Condé Nast Gold List – takes you closer to the heart and soul of Bali.
Voted #1 World's Top Hotel in the 2018 Travel + Leisure Readers' Awards, Four Seasons Resort Bali at Sayan is one of Bali's most awarded and iconic resorts. Located amid two acres (nearly a hectare) of rice fields and groves of fruit trees, vegetable and herb gardens, 42 private pool villas and 18 suites enable guests to retreat from the world and embrace the valley's healing energy. Thoughtfully-curated experiences include the world's only hotel arrival by river raft, with guests having the option to arrive and check-in riverside after a two-hour journey down the Ayung River.
Other exclusive experiences at Four Seasons Ubud include Balinese cooking classes at Sokasi, a traditional Megibung dinner inspired by an ancient dining ritual and much more.
🌴 ABOUT OUR ARCHITECTS & BUILDERS
Balictecture is a well-known and established architecture and construction firm in Bali, Indonesia. Established in 2010, Balitecture has grown to be a popular choice for both residents and foreign investors who want to build a villa in Bali.
Visit https://www.balitecture.com for more information.
🌴 CREATED BY BALITECTURE
Filmed, edited and produced by Balitecture, Bali, Indonesia.
This post contains affiliate links. If you use these links and make a purchase we may earn a small commission at no additional cost to you.