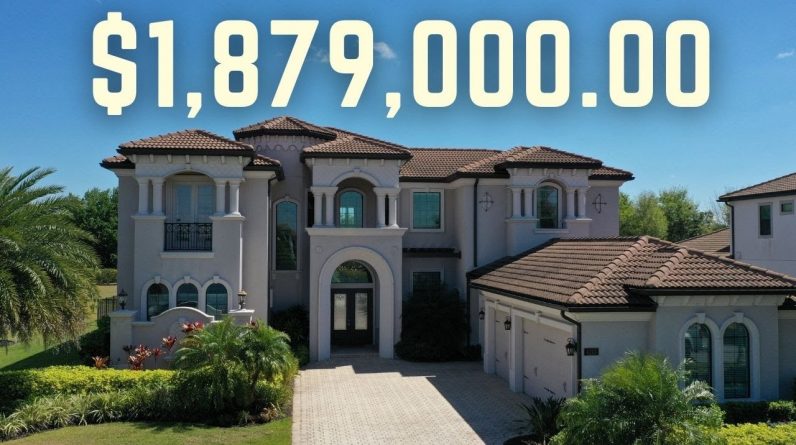 This beautiful two-floor home is available for purchase in Windermere, Florida. The current asking price when this video was filmed is $1.879 Million.
About the home:
Beds: 5
Baths: 5 full/3 half
Garage: 3
5,353 square feet
Large Pool
Hot tub
Multiple Upstairs Balconies
Bar
Outdoor Kitchen
0.5 Acre Lot
Radius Windows
Gourmet Kitchen
This home is located in the Casabella community, in Windermere, Florida.
Thanks to Ruth Santos from Empire Network Realty for letting us video this home for our viewers!
Located at luxury gated Casabella Windermere upscale community on a premium lot. The floor plan features 5 bedrooms, 5 full bathrooms, 3 half baths, and a 3 car garage. The formal entry and living room boast two-story ceilings with stunning crystal chandeliers with two-story radius windows with custom drapes overlooking your lanai and wonderful pool view. The Beautiful custom brand new pool and jacuzzi feature water cascading into the pool, and a saltwater system with a smart app to control from the phone. The pool features 3 waterfalls, 2 bubblers on the beach area, and 14 lovely color options/lighting effects for every mood. The gourmet kitchen features an expansive center island leading to the family room, with natural gas for cooking, 42″ cabinets, and stainless steel appliances. A spacious lanai, gorgeous summer kitchen, and island are easily accessible from your family room with expansive sliding glass doors, wonderful for indoor/outdoor living, and a wet bar creates the perfect entertaining space. The first-floor master suite encompasses spacious dual walk-in closets, an oversized shower with separate his and her bathrooms, and an exercise room. This home also includes a private first-floor guest suite and 3 additional en-suite bedrooms, one being a second master with a spa-style bath and a private balcony overlooking the pool. Bedrooms 3 and 4 offer a spectacular sunset pond view. Other outstanding features include lush landscaping. You will feel like you are at a private resort.
To search homes in any area see our link below. It will ask for your email to sign up, but you can turn off the auto-emails it sends easily and then have full access to listings in your area!
My Website:
https://mikemello.viewhousesinflorida.com/
Interested in this home? Contact us directly and we'll put you in touch with the right realtor to help you!
Text/Call: 407-487-3030
Email: MikeMelloRealtor@gmail.com
If you're interested in the equipment we use in our videos see below:
My Website:
https://mikemello.viewhousesinflorida.com/
Interested in this home? Contact us directly and we'll put you in touch with the right realtor to help you!
Text/Call: 407-487-3030
Email: MikeMelloRealtor@gmail.com
Spanish Channel Link:
https://www.youtube.com/channel/UCFBrLJwN0F3NqyhFzKsrz0w
Phone Equipment/Stabilization/Audio :
(I like to use models that are over a year old due to cost savings if the camera performance is not much different) :
Android Phone with wide-angle (make sure you select S10+, not S10) also select internal memory you want, the higher the better for video, or use a memory card to save some money :
https://amzn.to/3f6k5mz
Memory Card :
https://amzn.to/31cfuXS
For iPhone users :
https://amzn.to/3shxOdQ
DJI OM4 Gimbal stabilizer for Phone (highly recommend over other stabilizers) :
DJI Direct:
https://click.dji.com/AM9r01ZRUfoU2F4z1ITfUw?pm=link
Amazon:
https://amzn.to/2PmHkhq
Wireless Comica Boom Microphone with 2 microphones :
https://amzn.to/3194iLF
Basic Wired Lapel microphone :
https://amzn.to/3tOKycs
Drones :
Mavic 2 Pro
https://amzn.to/3tMQQcn
2 spare batteries :
https://amzn.to/3reEeJE
Charger for Drone :
https://amzn.to/318zWc7
Memory Card :
https://amzn.to/31cfuXS
Mavic Air 2 (lower cost but good video quality) :
https://click.dji.com/AEw-RYjaZBGh_NUGPzH72A?pm=link
Other Equipment used :
Canon M50 Camera (for office shots) :
https://amzn.to/3rlfwr6
MacBook Pro with 1 TB of memory (for video editing) :
https://amzn.to/31apVLt
My favorite two books that influenced my business life:
Execution :
https://amzn.to/3lQkoDh
The Oz Principle :
https://amzn.to/3sf0uEr
#LuxuryHomesFlorida
#LivingInWindermere
#MelloLuxuryVillaMilano
#Casabella
#Listing