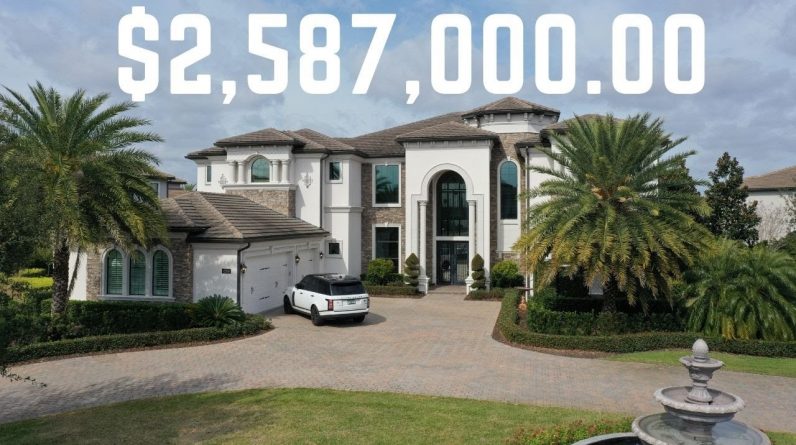 This beautiful two-floor home is available for purchase in Windermere, Florida. The current asking price when this video was filmed is $2.587 Million.
About the home:
Beds: 4
Baths: 4 full/2 half
Garage: 3
7,971 square feet
Infinity Pool
Multiple Upstairs Balcony
Wine Room
Bar
Outdoor Kitchen
Lake View
This home is located in the Casabella community, in Windermere, Florida.
Welcome to 4260 Isabella Circle, a contemporary masterpiece located at Casabella. This exquisite residence features unparalleled details and upgrades throughout, from the art-inspired custom light fixtures to the hand-scraped hardwood floors, marble tiled bathrooms, and a one-of-a-kind custom wine cellar. The chef-inspired kitchen includes top-of-the-line stainless steel appliances, modern custom cabinetry, and a massive center island that's perfect for hanging out with family. The home features four large suites including an expanded first-floor master with a separate sitting area, workout room, his and hers closets, and a spa bath with a soaking tub and oversized walk-through shower. The moment you step through the front doors your eyes are greeted by soaring two-story ceilings, a wall of windows overlooking the pond, and an abundance of architectural details. Exterior amenities include a massive pond front corner lot with a custom fountain, a circular drive, an infinity-edge pool, and a huge covered lanai with a summer kitchen that includes a center island, gas grill, refrigerator, ice maker, and an enormous outdoor dining area. Some pieces of furniture might be negotiable.
To search homes in any area see our link below. It will ask for your email to sign up, but you can turn off the auto-emails it sends easily and then have full access to listings in your area!
My Website:
https://mikemello.viewhousesinflorida.com/
Interested in this home? Contact us directly and we'll put you in touch with the right realtor to help you!
Text/Call: 407-487-3030
Email: MikeMelloRealtor@gmail.com
If you're interested in the equipment we use in our videos see below:
My Website:
https://mikemello.viewhousesinflorida.com/
Interested in this home? Contact us directly and we'll put you in touch with the right realtor to help you!
Text/Call: 407-487-3030
Email: MikeMelloRealtor@gmail.com
Phone Equipment/Stabilization/Audio :
(I like to use models that are over a year old due to cost savings, if the camera performance is not much different) :
Android Phone with wide-angle (make sure you select S10+, not S10) also select internal memory you want, the higher the better for video, or use a memory card to save some money :
https://amzn.to/3f6k5mz
Memory Card :
https://amzn.to/31cfuXS
For iPhone users :
https://amzn.to/3shxOdQ
DJI OM4 Gimbal stabilizer for Phone (highly recommend over other stabilizers) :
DJI Direct:
https://click.dji.com/AM9r01ZRUfoU2F4z1ITfUw?pm=link
Amazon:
https://amzn.to/2PmHkhq
Wireless Comica Boom Microphone with 2 microphones :
https://amzn.to/3194iLF
Basic Wired Lapel microphone :
https://amzn.to/3tOKycs
Drones :
Mavic 2 Pro
https://amzn.to/3tMQQcn
2 spare batteries :
https://amzn.to/3reEeJE
Charger for Drone :
https://amzn.to/318zWc7
Memory Card :
https://amzn.to/31cfuXS
Mavic Air 2 (lower cost but good video quality) :
https://click.dji.com/AEw-RYjaZBGh_NUGPzH72A?pm=link
Other Equipment used :
Canon M50 Camera (for office shots) :
https://amzn.to/3rlfwr6
MacBook Pro with 1 TB of memory (for video editing) :
https://amzn.to/31apVLt
My favorite two books that influenced my business life:
Execution :
https://amzn.to/3lQkoDh
The Oz Principle :
https://amzn.to/3sf0uEr
#LuxuryHomesFlorida
#LivingInWindermere
#MelloLuxuryCasabella
#Casabella
#Listing