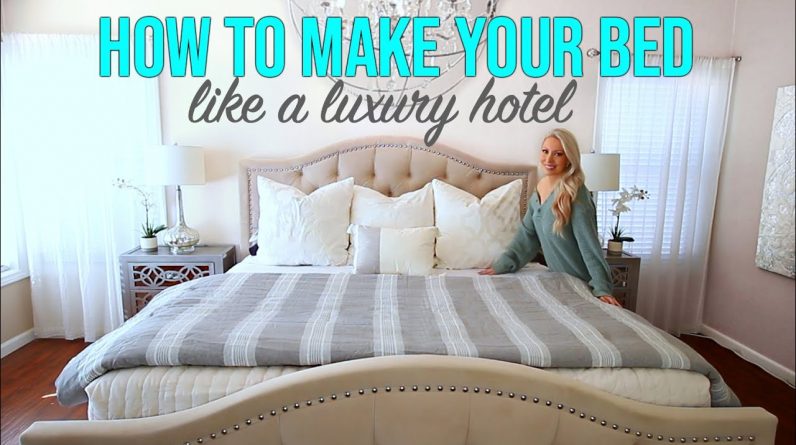 Tips and tricks for how to make your bed like a luxury hotel. ☟ ☟ CLICK FOR LINKS AND INFO ☟ ☟
♡ To be entered to win a $1000 staycation!!
♡ Subscribe to me here with notifications turned on: https://bit.ly/brittanyvasseur
♡ Follow me on Instagram @vasseurbeauty ‪ https://www.instagram.com/vasseurbeauty/?hl=en‬‬
Leave a comment below telling me your favorite idea from this video!
This is an international giveaway and the winner will be announced on my instagram stories on November 15 at 8 PM PST! Good luck!
**winner is kindra_shalynn
♡ L I N K S ♡
*My bed is king size and the frame is from zgallerie but they no longer sell this style. Mattress is by ghostbed- it's on the more firm side and I really enjoy it.
⇒ Mattress protector https://amzn.to/36o0R5G
⇒ sheets – these are INCREDIBLE! So silky and luxurious https://amzn.to/32GKiRz
⇒ Comforter set https://bit.ly/3kqRqaO
⇒ Pillows (these are AMAZING!!) https://amzn.to/3lvCdGM
⇒ Pillow protector https://amzn.to/3kss1xr
⇒ Large decorative pillows are from z gallerie
⇒ Santal fragrance oil https://amzn.to/36sqZg1
⇒ Nightstands https://rstyle.me/+F93dDWZ9QqdTB6W6InjgBg
⇒ sweater I'm wearing https://bit.ly/36swQC1
*NEW!* You can find ALL my favorite Amazon products by category here! https://www.amazon.com/shop/vasseurbeauty
TO FIND:
⇒ How to dewrinkle sheets 1:53
⇒ How to do a hospital fold 4:05
⇒ How to put on a duvet cover 6:18
♡ C O M M O N Q U E S T I O N S ♡
⇒ What camera do you use? All of my camera and filming equipment I use can be found here https://www.amazon.com/shop/vasseurbeauty?listId=13B6QUBFULB5Q&ref=idea_share_inf
⇒ Where do you get the music you use in your videos? All of my music is from Epidemic Sound http://share.epidemicsound.com/v6GHG
⇒ What is your family's skin care company called? Vasseur Skincare, all of our products are made with the highest concentration of active ingredients and are 100% natural: no parabens, chemical preservatives, synthetics, sulfates, toxins, dangerous chemicals or animal cruelty. For more information visit https://www.vasseurskincare.com
⇒ What's your instagram handle? @vasseurbeauty go follow me there!
⇒ NEW! You can now shop all of my Amazon favorite products by category here https://www.amazon.com/shop/vasseurbeauty
♡ F T C ♡ This video is not sponsored and all items were purchased by me. Some affiliate links are used, which I earn a small commission from.
♡ Thank you for watching and PLEASE SUBSCRIBE if you are new! I upload new videos every week! ♡