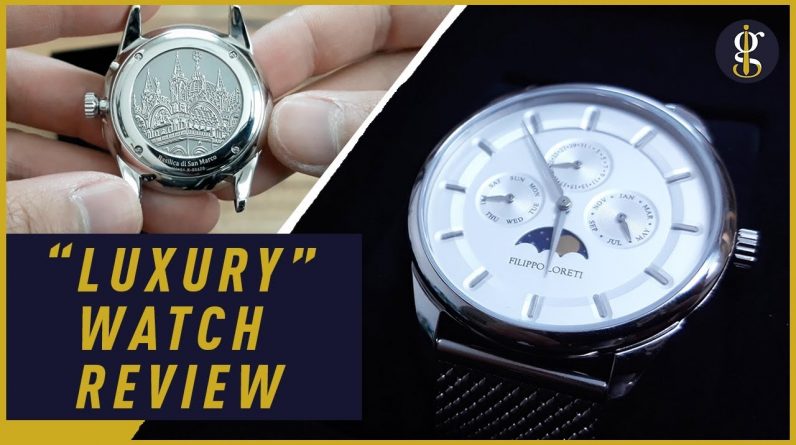 ➢ Filippo Loreti: https://fave.co/3xAW1iQ
➢ Venice Moonphase: https://fave.co/3IgAEbJ
– – – – – – – – – – – –
➢Become a GW Insider (it's free!) → http://bit.ly/35gPNFa
• Get my skin care routine + a free gift at http://www.tiege.com/gentlemanwithin
– – – – – – – – – – – –
MUST WATCH VIDEOS:
• Transitioning Your Style From Summer To Fall: http://bit.ly/2t3oosq
• 7 Awesome Fall/Winter Boot Styles For Men & Styling Inspiration – http://bit.ly/2wMIBBq
• 6 Shoes Every Guy Needs | 3 Nice To Haves + Styling Inspiration – http://bit.ly/2MKmZMf
• Best Affordable T-Shirt Brands – http://bit.ly/2NkvvFP
• How To Style A Denim Jacket: http://bit.ly/2FEjlBa
• Smart Casual Style Lookbook + 13 Outfit Ideas: http://bit.ly/2oxR0Fh
• The 5 Elements of Timeless (Men's) Style: http://bit.ly/2F2myJS
– – – – – – – – – – – –
Sporting a clean, elegant design, I decided to check out the Filippo Loreti Venice Moonphase series.
FILIPPO LORETI BACKGROUND
Filippo Loreti was founded in 2014 by two brothers from Lithuania. "[They] found that the majority of the price of a luxury watch had nothing to do with production costs and everything to do with expensive celebrity ad campaigns, inefficient supplier relationships, and convoluted distributor networks."
Filippo Loreti is the most funded watch company in crowdfunding history. I'd be remiss not to mention that they were caught in some controversy when they first launched their Kickstarter a few years back. It seems that most of the problems had to do with shipping issues and not so much the product itself. And it seem like things have been resolved since then.
WATCH PACKAGING (What's Inside)
• Filippo Loreti Venice Moonphase Silver Mesh Watch
• Certificate of Authenticity
• Instructions & Warranty Info.
• Microfiber wipe cloth
WATCH QUALITY
After a couple of weeks of wear, the watch is holding up well. There are no visible scratches or marks. The watch face is made of sapphire glass, which is more scratch resistant and higher quality than mineral glass, the latter being utilized by many mid-priced watches.
The strap is a mesh, stainless steel that looks and feels solid. It's a 316L grade stainless steel, which is said to be durable and corrosion resistant.
The watch feels substantial and has a nice weight to it, in other words, it doesn't feel cheap like some other fashion watches on the market. And I'm not sure if it was an oversight, but I can't comment on the calfskin leather strap because my shipment didn't come with one.
WATCH AESTHETICS
Filippo Loreti watches are not made in Italy, but are heavily influenced by Italian style and architecture. This is especially apparent by the detailing on the back of the case. It's engraved with the Basilica di San Marco (St. Mark's Basilica) in Venice, a nice touch and detail that I can appreciate since I visited St Mark's Basilica a few years ago and it was breathtaking.
The moonphase complication is elegant in its design. All of the subdials with the date are inset and nicely balanced along with the hour markers. It has a classy mesh band with an easy-to-release clasp so that you can easily swap straps. Switch it up with a leather strap to tone down the formality a bit, but still retain a classy vibe.
WATCH DETAILS
• Case Diameter: 40mm
• Thickness: 9mm
• Strap Width: 20 mm, best fit for 5.5″-9″ wrist
• Case Material: Stainless Steel (316L Grade)
• Glass: Sapphire Glass
• Straps: Mesh Bracelet, Brown Italian Leather
• Water Resistance: 5atm (50 meters)
• Buckle: Regular
• Movement: Miyota 6P00
• Functions: Moonphase Function at 6 o'clock
• Warranty: 10 Years
IS FILIPPO LORETI WORTH IT?
Filippo Loreti may not have the history and heritage of classic watch brands like Timex, Hamilton or Seiko, but they've done a great job of generating buzz and introducing a new wave of watch enthusiasts into the wonderful world of watches, which is a win-win for the watch market as a whole.
If you're looking for a modern timepiece with a clean and elegant aesthetic, Filippo Loreti is a brand worth checking out.
– – – – – – – – – – – –
✖Let's Connect
W E B S I T E: https://gentlemanwithin.com
T W I T T E R: http://twitter.com/thegentwithin
F A C E B O O K: http://facebook.com/gentlemanwithin
I N S T A G R A M: http://instagram.com/thegentwithin
S O U N D C L O U D: http://gentlemanwithin.com/soundcloud
P I N T E R E S T: http://pinterest.com/gentlemanwithin
G O O G L E +: http://plus.google.com/+Gentlemanwithin
S N A P C H A T: khoiii
– – – – – – – – – – – –
✖Exclusive Stuff
➢Check out the 'I Am A Gentleman' Manifesto → http://bit.ly/2vQewP5
➢A Crash Course to Better Style → http://bit.ly/2nFUSS1
➢Join the Gentlemen Within Private Facebook Community → http://bit.ly/2wYuH1n
Contains affiliate link // Cheers to your style!
#GentlemanWithin #FilippoLoreti #FilippoLoretiReview #LuxuryWatch