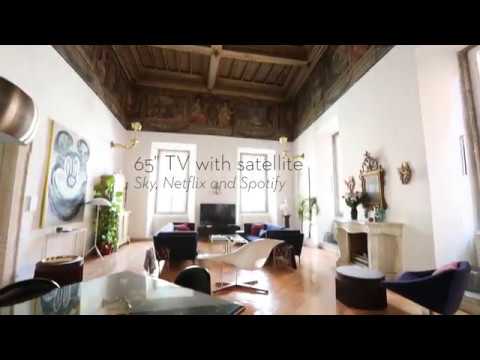 The Costaguti Experience is a spacious luxury apartment with a vast living room decorated with a XVII century ceiling fresco by the Zuccari brothers. Its towering windows overlook Piazza Mattei and its iconic Turtle Fountain centerpiece.
This luxury apartment can accommodate up to 12 guests in its five rooms, further enhanced by a grand billiards room, a private sauna, and a large living room that overlooks one of the most precious squares in the center of Rome.
The Costaguti Experience boasts museum-grade frescoes by several masters of the time: the esteemed Cavalier d'Arpino, a painter that commanded Rome's attention during the Baroque period. He was one of the early teachers of Caravaggio, Gaspard Poussin, and the brothers Taddeo and Federico Zuccari. The Zuccari brothers from the Marche region of Italy were innovators of Italy's artistic heritage and their work can also be observed in the main living room with a fresco depicting the Allegories of the Months and Virtues.