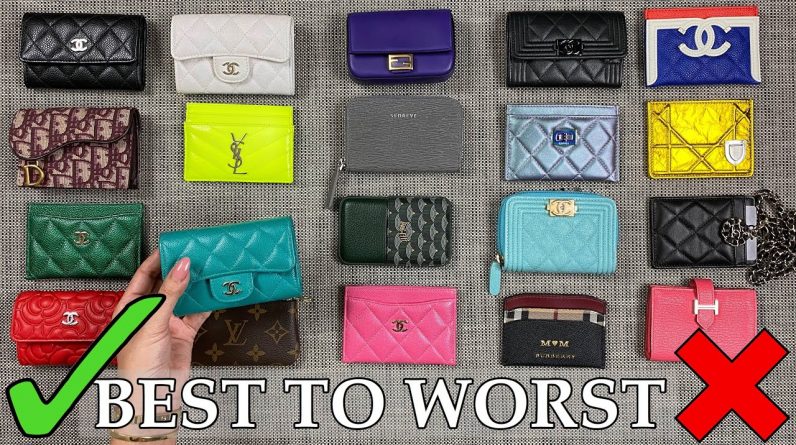 BEST to WORST | Ranking & Reviewing ALL my Luxury Cardholders – ft. Chanel, LV, YSL, Dior and more! Looking for a DESIGNER CARD HOLDER? Watch this first!
Pros & Cons, What fits in? In depth Review and Comparison of 20 DIFFERENT Card Holders/cases from Flat to Zip around to Snap button closure etc
JOIN the FaMELy!
❤️ YOUTUBE SUBSCRIBE HERE: http://bit.ly/2uSps2f
❤️ INSTAGRAM: https://www.instagram.com/mel_inmelbourne
❤️ FACEBOOK: https://www.facebook.com/melinmelbourneblog
SELLING PROCESS
– First come first serve basis. No HOLDS. I will answer enquiries in the order they come in.
– Method of payment PAYPAL ONLY.
AUS: This can be either be friends & family or add 4% extra if paying via PAYPAL invoice (this is the fee Paypal charges me).
REST OF THE WORLD (add 4% fee to prices) I will invoice you as I unfortunately cannot accept Friends & Family as I still get charged fees and conversion costs.
– WILL ship Worldwide
– All items 100% AUTHENTIC
– FINAL SALE. No returns or exchanges
👛 2 CARD HOLDERS I'M SELLING
FULL SET- original box, ribbon, dustbag, authenticity card + a little gift from me 🙂
Serious Enquiries Only To: askmelinmelbourne@gmail.com and pls tell me what country you are from.
1) ❌ SOLD ❌ Sought after CHANEL Caviar Pink Card Case (no longer produced) 27 XXX series AS NEW (only used once for 2 hours)
Price $:SOLD
2) ❌ SOLD ❌ RARE CHANEL Tiffany Blue Zip around Card Holder (no longer produced) 26 xxx series -Grained Calf leather (similar to Caviar) wit brushed gold hardware (sticker still intact)
NEW IN BOX – never used! This one is the special edition with 4 compartments not 3 hence why it is a little more expensive due to the extra leather.
Price $ SOLD
Will mark ❌ when the item is sold.
—————————–
ITEMS MENTIONED:
I have listed my TOP FAVOURTIES here
(some are preloved as they are no longer available )
❤️ YSL Card case (found it cheaper than RRP here) NEW: https://bit.ly/2wm8jjT or https://bit.ly/3aQaFqp
❤️ FENDI Nano Baguette (wear to multiple ways) NEW : https://bit.ly/2Xj2ijg or monogram version I love too: https://bit.ly/39Puhte
❤️ CHANEL green cardholder (same colour as mine but different style, colour is quite rare): https://bit.ly/2JLkJF1
❤️ DIOR Saddle Card holder: https://bit.ly/2UQlxyQ or
❤️ CHANEL Camellia Card Case (same style as mine): great price https://bit.ly/34iLKcp
❤️ LV Cles Monogram (sold out online): preloved here: https://bit.ly/2JJIDRd
❤️ SENREVE mimosa leather card case (scratch & water resistant): https://bit.ly/2xB1L14 code: MIM50OFF to get $50 off orders over $300 + free worldwide shipping.
❤️ CHANEL Caviar Quilted Flap Card Holder Black (same as mine) : https://bit.ly/2JIXrzP or classic flap versions here: https://bit.ly/2Xgk7ze
————————————
💁🏻‍♀️ My M.I.M 2-in-1 Earrings are back in stock! YAY!: http://analuisa.com/mim-earrings
code: MOM15 to save 15% off!
Wear them just as a hoop or slide on the pearl if you want a dressier look. Great for those with sensitive ears as the base metal is a precious metal which is sterling silver not brass like costume jewellery 🙂 + FREE WORLDWIDE shipping!
———————————–
🎥 WATCH NEXT:
I also have created PLAYLISTS for your to watch:
1. HAWAII VLOGS & UNBOXINGS: https://bit.ly/2JKSVRd
2. BAG REVIEWS/COMPARISONS or LUXURY TIPS: http://bit.ly/2IZWJO4
3. ENTIRE HANDBAG/ACCESSORIES COLLECTIONS: http://bit.ly/2DgLSOq
4. VLOGS: http://bit.ly/2fhXymM
———————————-
SEND me MAIL 💌 (I would love to hear from you)
PO Box 3037
Syndal
VIC 3149
Australia
Music: Epidemic Sound
Edited: iMovie
Disclaimer: This is NOT a sponsored video. All opinions are my own and everything was purchased with my own money. Some links may be affiliated. #rankingbesttoworse #designercardholder #whatfitsin