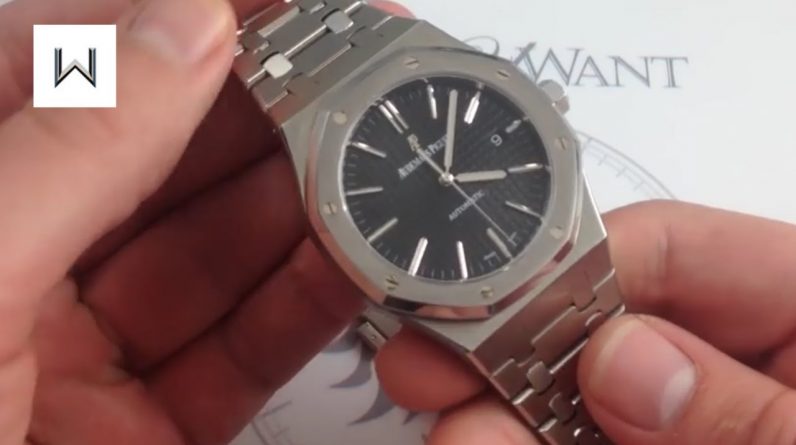 Watchuwant is now WatchBox! See Our Collection of Audemars Piguet Watches: https://goo.gl/71RsQx
The Audemars Piguet Royal Oak 15400 is a wrist-mounted masterclass in deft refinement; this is how you update a watch that has become a virtual collector institution. Its larger 41mm stainless steel case and beyond-iconic octagonal bezel read with the proportions of 1972 and the zeitgeist of 2015.
Gerald Genta's original 39mm Audemars Piguet Royal Oak "Jumbo" offered the blueprint for the perfect high-horology steel watch. AP's previous 2006-2011 39mm Royal Oak 15300 added daily durability to the equation. This Audemars Piguet Royal Oak 15400ST has filled the gap between the traditional models and the juggernaut Offshore.
Audemars Piguet's Royal Oak is a legend that requires no introduction, but it gets one by virtue of its importance. From its 1972 launch as the ultimate iconoclast, the Genta-designed Royal Oak has remained at the forefront of luxury watch style and the top of collector wish lists.
In 2012, with the Royal Oak 40th anniversary upon it, Audemars Piguet decided to increase the coherence of the watch's dial while bringing its size in line with contemporary tastes. The bigger case and bezel don't read as such due to skillful balancing of proportions, but the dial receives a striking upgrade.
Gone are the stubby indices of the Audemars Piguet Royal Oak 15300, now replaced by graceful shafts with longer span. The date window has been reduced in size, and a stub index has been added at three o'clock to better balance the composition. Once seated at the foot of the index at six, the "Swiss Made" origin signage has been relocated to flanking positions alongside the newly elongated index.
At 12 o'clock, AP wisely replaces the oversized "AP" logo with a double-baton index and a downsized logo at its foot. Because with model as recognizable as the Royal Oak, who needs a giant brand marquee, anyway?
The Audemars Piguet in-house caliber 3120 features the fine-finish fireworks worthy of a charter member of the high horology "Big Three," but the basic virtues of the in-house caliber 3120 are impressive on engineering merit alone; smooth bi-directional winding; high efficiency ceramic winding-rotor bearings; superior 60-hour power reserve; screw-secured hairspring stud on a robust full balance bridge.
Naturally, the integrated bracelet boasts the same degree of finish that elevated the original steel Audemars Piguet Royal Oak to precious metal-levels of prestige. Each element of the assembly sports multiple facets, multiple finishes, and seamless fit that minimizes gaps. A robust double-deployant clasp underscores the attention to detail; each deployant arm is fashioned in the image of Audemars Piguet's "AP" logo.
Video and content by Tim Mosso.