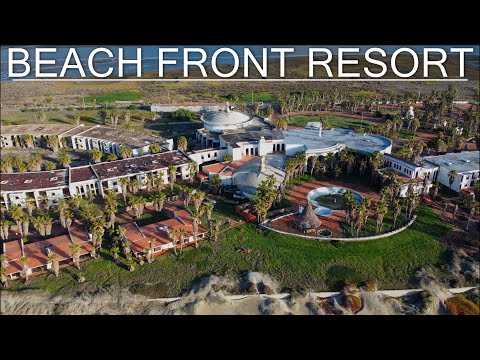 This abandoned resort in Mexico, has been on my list of places to check out for six years now. I first saw it when I was in Ensenada for the Baja 1000, and finally I have made my way back for an adventure. This location far surpassed my expectations, and I'm sure I didn't even get to see it all.
Before arriving to the resort, we stop and take a look at the controversial and abandoned housing project that was once under construction by Americans as an investment property. From what I could see, only two of these houses were completed, and the rest are in different stages of construction, and unfortunately decay. It is sunny and hot here more than it is rainy, but there is a rainy season, and that water has taken its toll on each of these houses.
Once reaching the Resort and Tennis Club, I was shocked with what was left. This was obviously a very high end place at one time, but again the water, and time have not been kind to this place. I assume that the broken windows are from hurricanes, but never the less it is water that will be the ultimate downfall of the property. Even at this point, I would say that most of the structures are too far deteriorated to salvage, but it is wild to walk around and see this once beautiful place.
Palm trees have pretty well taken over the courtyards, and the roads are hardly recognizable through the grass. After the heavy rains the night before, a steady flow of drips can be heard in nearly every room. I am happy to have had the opportunity to see this spot myself, because I am not sure it will be around much longer.
If you enjoyed this episode, and you would like to help support the channel, please consider taking a look at my Patreon page: https://www.patreon.com/DestinationAdventure
If you want to get your hands on some Destination Adventure Merch, check it all out here: https://destinationmerch.com/