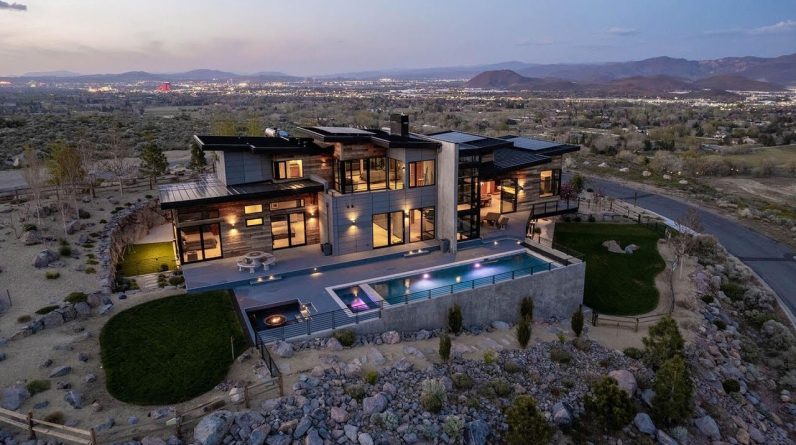 ❤️ It is a great honor and pride to be accompanied with Donna Spear (775-691-7947) to present this amazing property. Please contact the Agent for further information.
✔️ VIDEO CREDIT : MV PHOTOGRAPHY
– Website : https://www.mattwaclophotography.com/
– Phone : 530-448-0159
– Social Networks : https://www.instagram.com/mattwaclo/
– Intro by the company : Since 2007, Matt has established a strong sense of visual composition that architecture, light & nature can reveal through photography. His local reputation for capturing the visual elegance of some of the most exquisite luxury estates in our region is his passion. All photography and editing is done solely by Matt and never farmed out. He is dedicated to refining his techniques with advancing technologies and equipment. Moreover, Matt is grateful to have the pleasure to live, love and work in a community such as ours…Northern Nevada.
❤️ BIG THANK to MW Photography! We are grateful to the videographer who created the great material which used for this video. We feel very proud to include their name and the brand here so that all viewers can identify. Let's visit their company website and social pages to get more attractive information.
—————————————————————————————
✔️ ABOUT THE PROPERTY :
** Location : 2358 Diamond J Pl, Reno, NV 89511
** Price : $6,500,000
** Beds : 4
** Baths : 5
** Living : 5,930 sqft
** Lot size : 1.01 Acres
** Built : 2018
** Description : Located in the private community of Diamond J in the sought after Old South Suburban area of Reno, this impressive home was the recipient of two Bann-er Awards in 2019. Designed by Rob Fabri & Sam Updike of Architectural Design Group and constructed by Altmann Builders, it is truly a one-of-a-kind home with features and finishes beyond compare. The combination of concrete, glass, reclaimed wood and metal along with the most advanced systems and latest technologies provide a luxuious retreat to live, work play. Once you have toured the home, you will understand why this is "As Good as it Gets". The home is on 1.01 acre and is 5,930 sq.ft. with 4 bedrooms, 5-1/2 bathrooms, 3-car garage, In-ground swimming pool and hot tub, sunken fire pit, and custom contained indoor/outdoor dog area with artificial turf, sun and shade areas and a door to the laundry/mud room with a doggie bath. The Master Suite is on the upper level captures the surrounding views of the Sierras, the Virginia Foothills and the City lights – a view in every direction. There are three ensuite bedrooms on the main level of which one was designed as a flex room and provides a convenient bath for the pool and hot tub. All bedrooms enjoy privacy and views. The lower level includes a spacious office with a conference/pool table,..
** Sale Agent | Listed by : Donna Spear (Phone : 775-691-7947)
** For more information please visit : https://donnaspear.com/listing/NV/Reno/2358-Diamond-J-Place-89511/154031131
————————————————————————————–
✔️ ABOUT THE AGENT : DONNA SPEAR – CHASE INTERNATIONAL-DAMONTE
I am a Nevada licensed Realtor with Chase International Real Estate dedicated to assisting buyers and sellers with their real estate needs in the Reno/Sparks and Lake Tahoe areas.
– Website : http://www.donnaspear.com/
– Address : 985 Damonte Ranch Pkwy Suite 110 Reno, NV
– Phone : 775-691-7947
– Email : dspear@chaseinternational.com
– Social Networks : https://www.facebook.com/Donna-Spear-Realtor-NV-42018-130001970372347/
—————————————————————————————
✔️ ABOUT LUXURY HOUSES – AMERICAN HOMES CHANNEL :
– Luxury Houses – American Homes is a COMMON CHANNEL for Real Estate Operating Units including Videographers, Agents, Builders, Design Firms where they present their properties as well as promote their brands to millions of people worldwide.
– When you are ready to present your works, listings, projects, please send us the property videos, and we will post them within 24 hours.
– Please send TAKEDOWN request to us if your videos do not plan to exist longer on the Luxury Houses – American Homes Channel. We will put your request into action within 6 hours. Email to: luxuryhousesmedia@gmail.com
– Visit our website to discover more great things! https://luxury-houses.net | LUXURY HOUSES – AMERICAN HOMES – Inspiring Your Dream House
#luxuryhouses #americanhomes #luxuryhousesamericanhomes #luxurylistings
—————————————————————————————
✔️ DISCLAIMER :
– All images, videos are copyright each Photographer, Videographer, Real Estate Agent & Studio mentioned.
– All information contained in the LUXURY HOUSES – AMERICAN HOMES is provided as a convenience to audiences. All property prices displayed on the channel are current at the time of publication, but may change at any time and are subject to availability.