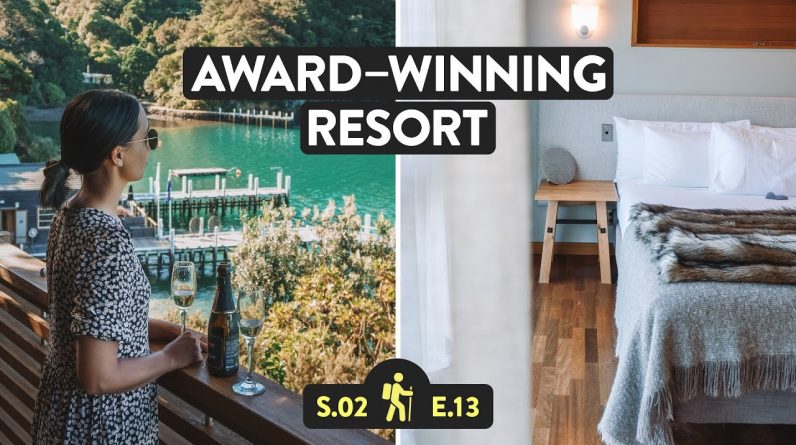 Episode 13, Season 2 of Reveal New Zealand and we're staying at the award winning Bay Of Many Coves resort. This is 5-star luxury accommodation nestled away in the Marlborough Sounds with the chance to finally go kayaking in the… ✪ Want to travel New Zealand with us?! See here — https://danegerandstacey.com/travelwithus ⬇ More Below ⬇
We've checked out a few Marlborough Sounds accommodation options, but it's fair to say we saved the best for last. Bay Of Many Coves is the home of luxury in the Sounds and somewhere we've always wanted to check out. It's everything we'd hoped it would be so this was the perfect chance to share it with you.
We were hosted by Bay Of Many Coves to share the experience with you, but of course as always, these are our opinions and no one has 'signed off' anything we've discussed here. It's just an amazing place that we loved and you will too. Prices depend on whether you book an apartment or suite and any available packages as well (their 3 for 2 deal is on now) — https://www.bayofmanycoves.co.nz
The weather was finally in our favour to get out onto the water and go kayaking in the Marlborough Sounds as well! Each accommodation we've stayed at so far has had paddle boards and kayaks and we haven't been able to get out there once.
Leaving the sounds, we pick up Dora the Campervan Explorer and make our way to Harvest Restaurant — according to Stace 'one of the best meals she's ever had'… believe me, that speaks volumes!
Check out Harvest Restaurant here — https://www.harvestrestaurant.co.nz/
Season 2 of Reveal NZ is a 15+ part video series showcasing the best things to do, see and experience in the Upper South Island. We're visiting Nelson, Tasman, Marlborough, Kaikoura, Hanmer Springs, Christchurch and more! We'll be going full vanlife for a portion of the trip in a top of the line motorhome as well, walking some of New Zealand's best tracks and checking out some incredible accommodation as well.
If you want to come on a group trip around New Zealand with us, come check this out — https://danegerandstacey.com/travelwithus
More than just the upper South Island, New Zealand is an incredibly beautiful country with so much to offer — but it's a lot larger than what you'd expect! We're producing the Ultimate New Zealand Travel Guide, a hub full of Kiwi knowledge to help you on your next adventures here. Take a look — https://danegerandstacey.com/nzguide
We also send out a monthly email with our travel updates and valuable recommendations for your travels — https://danegerandstacey.com/friends
Footage Credits — Thanks to Tourism NZ and x for supplying supporting footage for this series that we can't legally capture, eg drone shots.
▬▬▬
| T R A V E L F U L L -T I M E
Our 220 page guide teaching you how to earn income online. After reading this you'll be able to travel full-time and see the world like we have since 2017, it's all in here — https://danegerandstacey.com/book
▬▬▬
| O U R G E A R
↠ Camera — http://geni.us/ourcamera
↠ All Tech — http://geni.us/oYd6Wof
↠ Travel Insurance — https://danegerandstacey.com/ourinsurance
▬▬▬
| H O W W E
✈ Edit Photos — https://danegerandstacey.com/presets
✈ Source Our Music — https://geni.us/m001l
✈ Earn & Send Money — https://danegerandstacey.com/ultimatemoney
▬▬▬
| S U P P O R T U S
☺ Join Our Exclusive Patreon Community — http://bit.ly/2oOON8x
☺ Shop On Amazon Via Our Site First — http://geni.us/oYd6Wof
☺ Instagram — http://instagram.com/danegerandstacey
☺ Facebook — http://facebook.com/danegerandstacey
▬▬▬
| A B O U T U S
We're Dane & Stacey — a couple of nomadic travellers from little New Zealand, doing big things. In early 2017 we booked a one-way ticket to Thailand and traveled for 3 years non-stop… but travel has changed for everyone since late 2019 obviously.
Now we spend most of our time in New Zealand, experiencing our own country through the eyes of a tourist and sharing that all here, with you.
And for what it's worth, it's pronounced Dane-Ger, aka Danger… not Dan-E-Ger 😱
▬▬▬
| N O T E S
+ Business — info@danegerandstacey.com
+ Affiliate Links — We recommend stuff we love, if you love it as well we might receive some kind of compensation from the company
▬▬▬
#RevealNZ #NewZealand #BayOfManyCoves