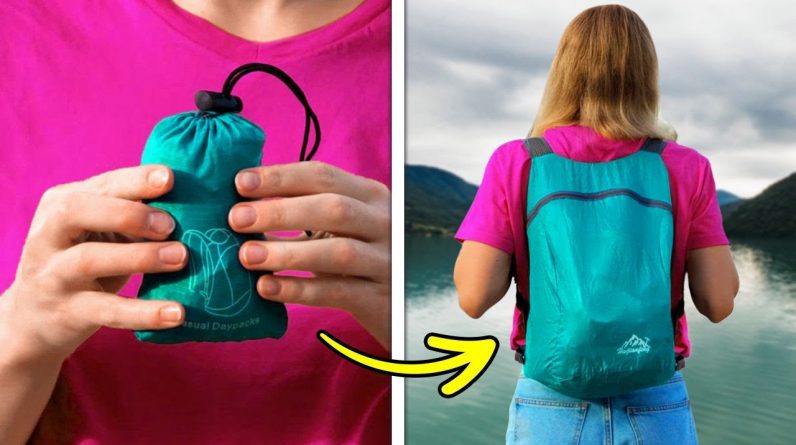 Are you a lover of nature and the outdoors? Great! We have a bunch of tips for you! You're about to discover several new smart outdoors gadgets that will make your life soooo much more comfortable and fun when you go on adventures in the wild. First of all, we're going to show you the coolest foldable backpack out there. It's ideal for putting away when you don't need it, and it's also quite spacious to put stuff inside. After that, you'll learn how to make DIY bandages if you ever get hurt in the wilderness.
Also, today we'll show you how to make a homemade whistle. You never know when you'll need it to call on someone if you get lost or have an emergency. It's definitely smart to have one! Another essential hack to know is how to easily and safely remove splinters. Make sure you watch this video all the way until the end to also learn how to make your own facemask. Let us know which ideas were your favorite ones!
TIMESTAMPS:
1:39 – Foldable backpack
4:18 – DIY bandage
7:23 – Homemade whistle
9:51 – Removing splinter
12:09 – DIY facemask
We advise adult supervision and care at all times.
This video is made for entertainment purposes. We do not make any warranties about the completeness, safety and reliability. Any action you take upon the information on this video is strictly at your own risk, and we will not be liable for any damages or losses. It is the viewer's responsibility to use judgment, care and precautions if one plans to replicate.
The following video might feature activity performed by our actors within controlled environment- please use judgment, care, and precaution if you plan to replicate.
All product and company names shown in the video are trademarks™ or registered® trademarks of their respective holders. Use of them does not imply any affiliation with or endorsement by them.
—————————————————————————————-
5-Minute Crafts: http://bit.ly/2itjCyw
Facebook: https://www.facebook.com/5min.crafts/
Instagram: https://www.instagram.com/5.min.crafts/
Twitter: https://twitter.com/5m_crafts
Subscribe to 5-Minute Crafts GIRLY: https://goo.gl/fWbJqz
The Bright Side of Youtube: https://goo.gl/rQTJZz
For more videos and articles visit: http://www.brightside.me/
Music by Epidemic Sound: https://www.epidemicsound.com/