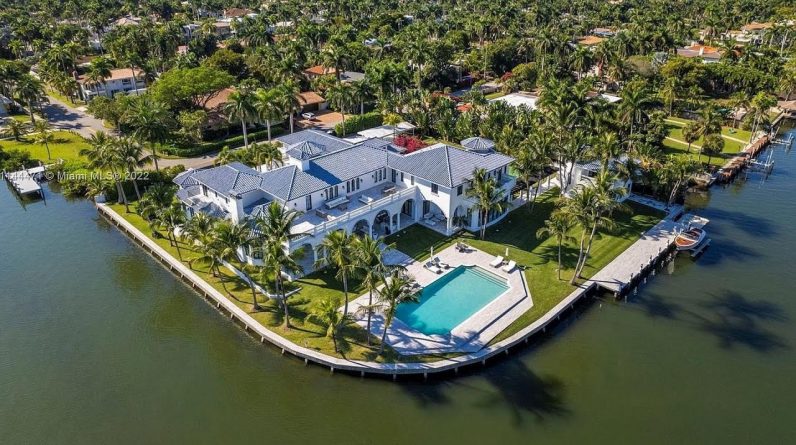 ❤️ It is a great honor and pride to be accompanied with Liz Hogan (305-804-9700) to present this amazing property. Please contact the Agent for further information.
✔️ VIDEO CREDIT : 1 OAK STUDIOS
– Website : http://1oakstudios.com/
– Address : 1001 NW 7th St #824, Miami, FL 33136
– Phone : 786-308-7441
– Social Networks : https://www.facebook.com/1oakstudios/ | https://www.instagram.com/1oakstudios/
– Intro by the company : Leading Creative Digital Media Agency In Miami. From professional film and photography services to marketing and branding. let our team of professional filmmakers and digital marketers show you the power of creative digital media for any business.
❤️ BIG THANK to 1 OAK Studios! We are grateful to the videographer who created the great material which used for this video. We feel very proud to include their name and the brand here so that all viewers can identify. Let's visit their company website and social pages to get more attractive information.
—————————————————————————————–
✔️ ABOUT THE PROPERTY :
** Location : 900 S Northlake Dr, Hollywood, FL 33019
** Price : $16,500,000
** Beds : 9
** Baths : 13
** Living : 12.845 sqft
** Lot size : 1.16 Acres
** Built : 2005
** Description : Step inside this stunning waterfront estate sitting on over 1 acre, triple corner lot with 450″ of redone seawall. The home was remodeled in 2020 with no expense spared, including a new boat lift that can accommodate up to 80ft boat, 1 folding dock for 3 jet skies and tender, 2 wine cellars, theatre room, tennis court, fitness room, custom doors + archways, and so much more. Enjoy spectacular water and Intracoastal views from every room in the house. The separate guest house boasts 2 beds and 2 baths. Great location minutes from Aventura mall, FTL airport, and major highways.
** Sale Agent | Listed by : Liz Hogan (Phone : 305-804-9700) at Compass Florida, LLC
** For more information please visit : https://www.compass.com/listing/900-south-northlake-drive-hollywood-fl-33019/957383291298007921/
—————————————————————————————–
✔️ ABOUT THE AGENT : LIZ HOGAN – COMPASS
Consistently ranked as one of the top-performing agents in South Florida, Liz Hogan has helped customers buy and sell real estate throughout the South Florida market for over 18 years.
Liz closed over $100M+ each in 2017-2020 and is ranked the #1 agent for Compass Florida for all four years. The Wall Street Journal/Real Trends has ranked her Top 10 for the State of Florida and #100 in the Nation for the last several years.
Raised in Miami, Liz specializes in residential properties ranging from homes for first-time buyers to luxury custom estates, commercial properties and leases. Liz services several Fortune 500 companies, equity funds, family corporate offices, and businesses handling their housing and relocation needs.
– Website : https://listingmiami.com
– Address : 2550 S Bayshore Drive, #106 Miami, FL 33133
– Phone : 305-804-9700
– Email : liz@listingmiami.com
– Social Networks : https://www.facebook.com/listingmiami/
—————————————————————————————–
✔️ ABOUT LUXURY HOUSES – AMERICAN HOMES CHANNEL :
– Luxury Houses – American Homes is a COMMON CHANNEL for Real Estate Operating Units including Videographers, Agents, Builders, Design Firms where they present their properties as well as promote their brands to millions of people worldwide.
– When you are ready to present your works, listings, projects, please send us the property videos, and we will post them within 24 hours.
– Please send TAKEDOWN request to us if your videos do not plan to exist longer on the Luxury Houses – American Homes Channel. We will put your request into action within 6 hours. Email to: luxuryhousesmedia@gmail.com
– Visit our website to discover more great things! https://luxury-houses.net | LUXURY HOUSES – AMERICAN HOMES – Inspiring Your Dream House
#luxuryhouses #americanhomes #luxuryhousesamericanhomes #luxurylistings
—————————————————————————————–
✔️ DISCLAIMER :
– All images, videos are copyright each Photographer, Videographer, Real Estate Agent & Studio mentioned.
– All information contained in the LUXURY HOUSES – AMERICAN HOMES is provided as a convenience to audiences. All property prices displayed on the channel are current at the time of publication, but may change at any time and are subject to availability.
—————————————————————————————–
Music in this video : End Time Delusion by Michael FK