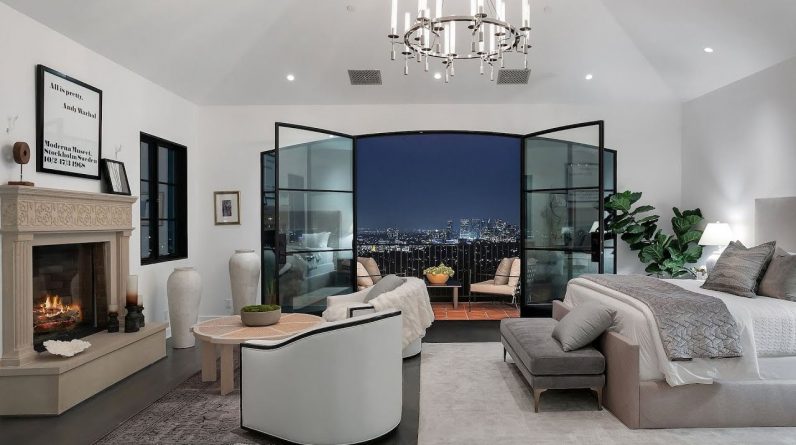 ❤️ It is a great honor and pride to be accompanied with The Altman Brothers (310-819-3250 to present this amazing property. Please contact the Agent for further information.
✔️ VIDEO CREDIT : (to be named, we are looking information to credit)
❤️ BIG THANK to the Videographer! We are grateful to the videographer who created the great material which used for this video. We feel very proud to include their name and the brand here so that all viewers can identify. If you are or have information about the filmmaker, please contact us at the email address below.
—————————————————————————————–
✔️ ABOUT THE PROPERTY :
** Location : 9368 Flicker Way, Los Angeles, CA 90069
** Price : $10,390,000
** Beds : 4
** Baths : 7
** Living : 6,000 sqft
** Lot size : 0.28 Acres
** Built : 1991 | Updated in 2021
** Description : Warm and refined transitional contemporary villa commanding the BEST views in the Bird Streets. Brand new MASSIVE infinity-edge pool with massive flat outdoor area for entertaining, set on an enormous double lot- Newly built compound with separate guest house and pool bath. Fresh, bright and totally reimagined! Main level includes a large dining & family room with a gourmet kitchen. The entire 2nd floor features the master suite with a fireplace & balcony to take in the views, a massive walk-in closet & his & her bath. 2 additional guest suites each with their own on-suite bathrooms. Incredible off-street parking- Total parking for 6 cars, 2 car covered garage.
** Sale Agent | Listed by : The Altman Brothers (Phone :310-819-3250 ) at Douglas Elliman
** For more information please visit :
—————————————————————————————–
✔️ ABOUT THE AGENT : THE ALTMAN BROTHERS – DOUGLAS ELLIMAN
The Altman Brothers constantly push the envelope, accomplishing what few others have in the history of residential real estate sales. With million-dollar transactions on their table per day, Josh and Matthew are responsible for selling over 5 billion dollars worth of real estate. Today, they are two of the most well-known real estate agents on the planet – the best of the best. They own dozens of industry records and earn the Wall Street Journal's nod as one of the world's top real estate teams year after year.
With access to over 1 billion dollars worth of listings in the Los Angeles area alone, The Altman Brothers virtually own the "Key To The City." Specializing in high-profile clientele valued at over 9 figures, Josh and Matthew's connections worldwide allow them to strategically market the most expensive unique properties in Los Angeles to real buyers. Their extensive network makes them a one-stop-shop when it comes to buying, selling, financing, building, and flipping real estate.
Clients of The Altman Brothers are the who's who of Hollywood, professional athletes, and high-net-worth individuals whose real estate holdings dot the globe. While the brothers are known to have more celebrity sales under their belt than anyone ever before, Josh and Matthew also work with clients with small family homes and short sale needs.
– Website : https://www.thealtmanbrothers.com/
– Address : 103 S Robertson Blvd, Los Angeles, CA 90048
– Phone : 310-819-3250
– Email : info@thealtmanbrothers.com
– Social Networks : https://www.facebook.com/thealtmanbrothers | https://www.instagram.com/thealtmanbrothers/
—————————————————————————————–
✔️ ABOUT LUXURY HOUSES – AMERICAN HOMES CHANNEL :
– Luxury Houses – American Homes is a COMMON CHANNEL for Real Estate Operating Units including Videographers, Agents, Builders, Design Firms where they present their properties as well as promote their brands to millions of people worldwide.
– When you are ready to present your works, listings, projects, please send us the property videos, and we will post them within 24 hours.
– Please send TAKEDOWN request to us if your videos do not plan to exist longer on the Luxury Houses – American Homes Channel. We will put your request into action within 6 hours. Email to: luxuryhousesmedia@gmail.com
– Visit our website to discover more great things! https://luxury-houses.net | LUXURY HOUSES – AMERICAN HOMES – Inspiring Your Dream House
#luxuryhouses #americanhomes #luxuryhousesamericanhomes #luxurylistings
—————————————————————————————–
✔️ DISCLAIMER :
– All images, videos are copyright each Photographer, Videographer, Real Estate Agent & Studio mentioned.
– All information contained in the LUXURY HOUSES – AMERICAN HOMES is provided as a convenience to audiences. All property prices displayed on the channel are current at the time of publication, but may change at any time and are subject to availability.